There's nothing better than a hot bath to unwind at the end of a long day…or just because on a day off..we live by no rule!
I love to keep my bath routine pretty simple. I put in a few drops of Le Labo Santal 33 bath oil and soak for a good hour!
Aésop make my favorite body products and I live for their body wash and lotion.
Keeping it fresh and simple.
At Home Fitness
I can't always make it to the gym with my busy schedule, but I gotta put the work in. I've slowly been buying fitness gear that I include in my home workouts with some of my furnitures. Benches and stairs are so good for so many workouts! Everything pictured here is from Target, but you can also find it all on Amazon!
Once again, I went to Sephora for the new Fenty Beauty concealer..and $250 later, I had a bag full of magical new items! What is all this you ask? Let me tell you! I got the Supergoop! Unseen Sunscreen for a protective base that smooths my pores. After applying the Fenty concealer on needed areas, I gently press the new Kat Von D Lock-It Powder Foundation all over my face and neck with the Kat Von D Lock-It Edge Foundation Brush. Continuing in the same brand line, the new Kat Von D Shade+Light Contour Duo is a much more compact option than the full face contour palette. And then, surprise, surprise! This Crushes stick that isn't on the Sephora website nor the Kat Von D website (yet?!), but is a stick version of this Twilight eyeshadow. I'm very excited to try it! Lastly, not makeup related, but I'm trying this IGK Jet Lag Dry Shampoo and hopefully works better than the Bumble & Bumble one I've been using!
I have been using my Nion Beauty exfoliating brush daily for nearly 2 months now and I have to say, I am in love! I've been seeing these rubber brushes for years and to be quite honest, I really didn't understand how this would clean my face better than a wash cloth and an exfoliant. Well, I still can't really explain how, but it really does clean better! My skin automatically feels as smooth as a baby's without actually stripping my skin of essential oils. I've been having less breakouts & I use it every morning in the shower with my favorite face cleansers! What a dream!
What's in my beauty bag?!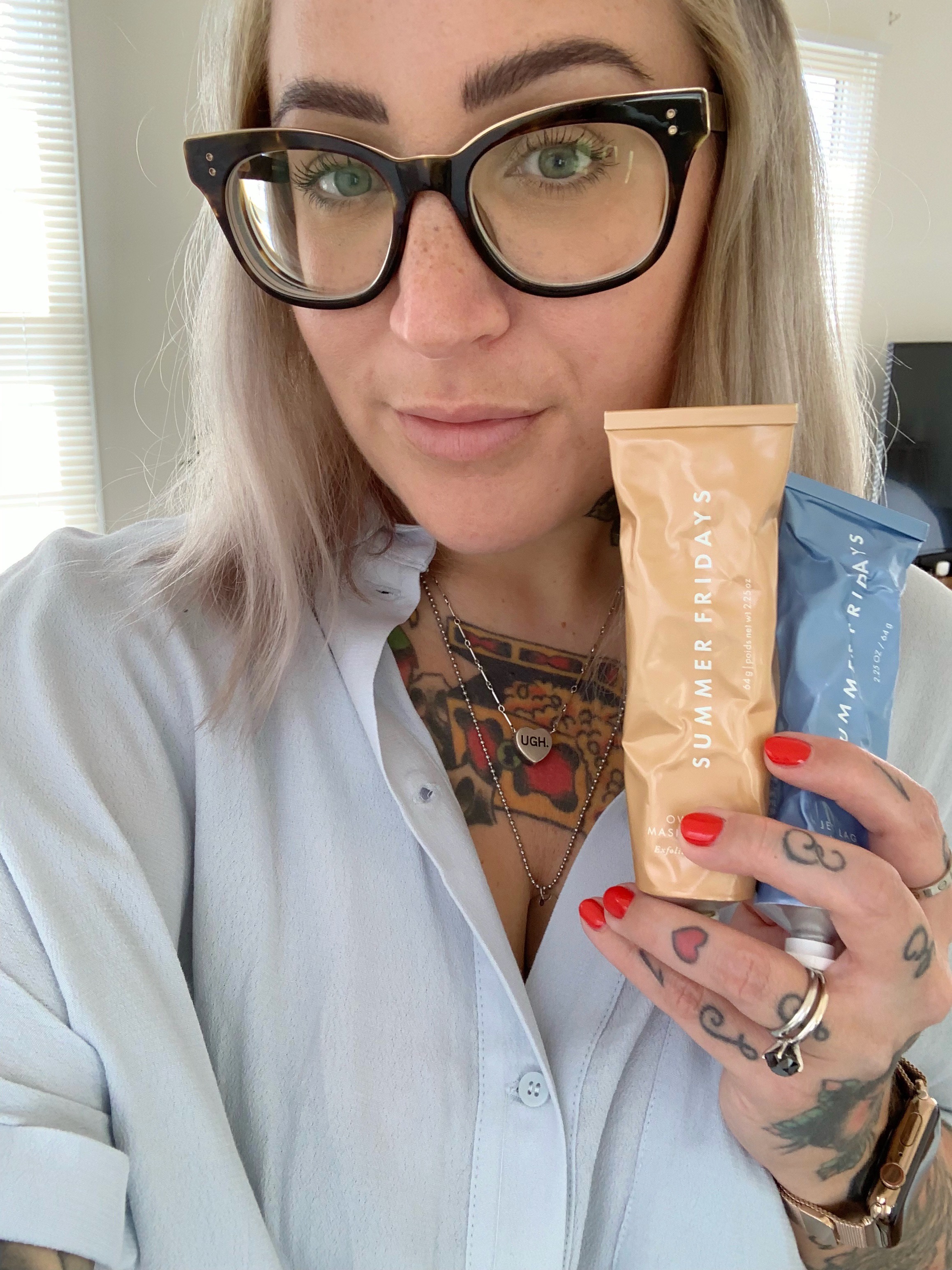 The best masks sur le marché
In this social media era, we are all overwhelmed with a million products and what seems like only paid ads from our favorite influencers. Well, this ladies and gentlemen, is the real deal. You've heard the hype about Summer Fridays, and let me tell you that it's true! These two masks have been legit game changers for my skin! I don't know what kind of wizardry is in the tubes, but you'll end up with skin as smooth as a baby's butt and looking as plump as you ever did in your best days! I personally love using them at night, starting with the Overtime mask (exfoliant), followed by the Jet Lag mask that I leave on overnight for deep hydration.
Click here to shop Jet Lag mask.
It took me over 20 years to find a perfume I could properly wear. The day I walked into Le Labo, my life changed! The price tag might scare you at first, but trust me, it is so worth it! My go-to is Santal 33 and the 50ml bottle lasted me over a year!